Social media is an important part of content reach and if you'd like to mention my social channels in a story, please follow the guide below (all links open in a new tab/window).
My social media profiles:
Facebook:
To mention Paul Maric on Facebook, it's important to mention the correct page (Paul's official profile is verified with a blue tick). Paul's public profile is visible to the public and contains the latest news and stories posted by Paul, or by others to Paul.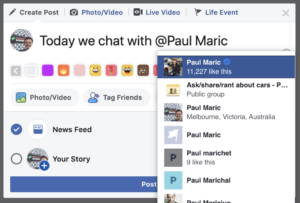 When writing a post, ensure you tag @PaulMaric (no spaces). This allows your audience to find and follow Paul and it allows Paul to then share content that he is tagged in.
Example: Today we spoke with @PaulMaric about the cost of vehicle ownership, here's what he had to say…
If you mention Paul as part of his role as a motoring writer, please include a tag for CarExpert.com.au. This can be done by tagging @CarExpertAus.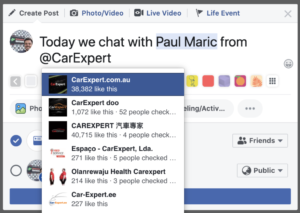 Twitter:
Tagging Paul on Twitter is just as easy. By mentioning Paul on Twitter, he will be able to retweet your content to his audience to further increase reach. Paul's correct profile on Twitter is verified with a blue tick.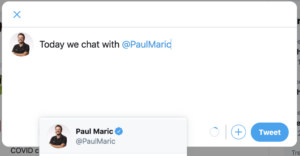 Similarly, you can tag CarExpert under Paul's capacity as a motoring journalist to further this reach with the handle @CarExpertAus.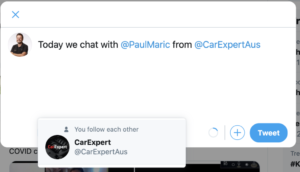 Example: It's the most expensive SUV on the market and @PaulMaric has driven it. Read the review at @CarExpertAus here…
Instagram:
Instagram is a slightly different beast to Facebook and Twitter. There are two ways to tag on Instagram — the first is to tag in the photo and the second is to mention a user in the post.
To effectively push content out and have it networked through Paul's channels, mention @PaulMaric in the photo tag and in the post. Paul's correct account on Instagram is verified with a blue tick.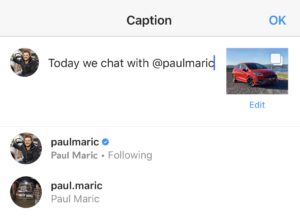 Likewise, if you are mentioning Paul in his capacity as a motoring journalist, be sure to include @CarExpert.com.au in your mentions.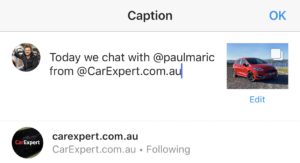 Example: There's nothing like a convertible! @PaulMaric gets behind the wheel of the latest BMW 4 Series. Catch the full review at @CarExpert.com.au…
TikTok:
TikTok is where you'll find short videos and some live content.
TikTok was once a platform for teenagers to embrace their dancing styles, but it has evolved into something much bigger than that.
Just like my other social media platforms, feel free to tag me in any posts that you share with the username @PaulMaric.

CarExpert has launched! Bringing together some of Australia's best journalists, it's fast becoming one of Australia's most read automotive sites.